Books, magazines, radio, television—author and historian Walker A. Tompkins did it all, spending nearly a lifetime writing fiction and nonfiction. He was born on July 10, 1909, in Prosser, Washington, his parents having moved there from Missouri. During his childhood, the family lived on a wheat ranch outside Walla Walla. In 1920, his parents took up farming in Turlock, California. Tompkins was a high school teenager when he started his writing career on a Turlock newspaper (paying his wages to another boy to do his farm chores).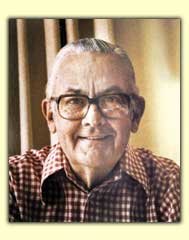 Tompkins attended Modesto (California) Junior College, and before enrolling in the University of Washington at age 21, he sold his first western novel to Street and Smith, New York. In 1931, in addition to a steady production of wild west fiction, he was writing feature articles for the Sunday Portland Oregonian. Early in his career, Tompkins was dubbed "Two-Gun" for his prodigious output of pulp
westerns, and the nickname stuck with him for life.
During the 1930s, Tompkins worked his way around the world with his typewriter, collecting payment for his westerns at each port of call. His steamer travels took him to Europe, Asia, Africa, and the Dutch East Indies. During World War II, he served in Europe for three years as an overseas correspondent for the U.S. Army.
Following the war, the writer settled in Santa Barbara, California, and after 30 years of pulp stories turned his attention to local history and biography. His many works focusing on the Santa Barbara area include: Santa Barbara's Royal Rancho, California's Wonderful Corner, Goleta: The Good Land, Santa Barbara Past and Present, It Happened in Old Santa Barbara, Stagecoach Days in Santa Barbara County, and Santa Barbara History Makers.
While pursuing his other writing projects, including a series of adventure novels for young adults, Tompkins was a reporter and staff writer for the Santa Barbara News-Press from 1957 to 1973. He wrote the popular Santa Barbara Yesterdays column for the paper and a book of the same name. His daily radio vignettes, also titled Santa Barbara Yesterdays, aired for 20 years on a local station.
Tompkins, always in demand as a speaker, encouraged his